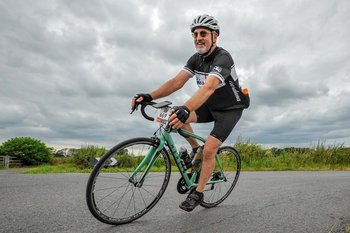 We caught Jeff on one of his rare days off to ask him a few questions about his background and some experiences he's had in being the director of Chiropractic Associates for 30 plus years! Here's what he had to say.
Tell us how your journey started in becoming a chiropractor.
Following a serious motorcycle accident in 1979 I suffered headaches, back and neck pain. Two years of partially successful medical care left me with substantial ongoing pain and disability. I saw a chiropractor for the first time and the results were very good, within a few months I was substantially improved! A year later I decided to pursue chiropractic studies.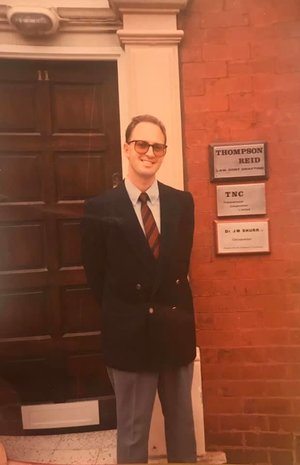 You were born in the USA so how did you end up in the UK? When you moved here, how did the clinic get started?
Shortly after deciding to study chiropractic I met Jacqui. She had emigrated to Southern California a few days before we met. We married nine months later! We loved living in Southern California! During my studies we visited the UK and I enjoyed the people, the history and the landscape. I enjoy cycling and rock climbing so the North West and the Lake District was very attractive. I qualified in 1989 and we decided to move to the UK for one year, to spend some time near Jacqui's family. That was over 30 years ago!! We started a small practice in a terraced house in Lostock Hall and were soon fully booked with new and returning patients. When the lease was due a year later we realized we needed larger premises. We took over an old GP surgery and took on two more associates at the Stone Cross in Leyland. We then opened two satellite clinics, one in Ansdell, Lytham and the other in Blackburn to service our newly formed NHS contracts as well as private patients. We purchased the building we now practice in and relocated the main practice here in Walton le Dale. I received invitations to speak regularly at regional, national and international conferences on clinical care. With Jacqui managing the practice and me leading a wonderful team we are very busy and very happy!
In 2004, your family moved to Hong Kong for 6 years. What was your purpose and what was your experience out there?
During the years of building the practice Jacqui and I were blessed with two sons, Jonathan and David. In 1994 Jacqui read about the 'one child policy' in China and the abundance of girls in orphanages in China. Together we decided to give one of these girls a home with our family. We traveled to Xinjiang, China to receive Abigail, nine months old, in 1997. While there we saw a tremendous need for health, social services and education and founded The Good Rock Foundation. Jacqui became Director of Good Rock and began traveling to China regularly to develop and supervise our services. The focus of our lives began to change, we were grateful for our success and wanted to give something back. We sold the two satellite practices to my associates, prepared our main practice for our limited involvement and moved the family to Hong Kong to concentrate more fully on Good Rock. I returned to the UK every few weeks to see my patients and supervise the clinic. We were able to help hundreds of Chinese children in Xinjiang to experience a better life with more promising futures. Living in Hong Kong allowed us to fully experience this vibrant, colourful, fascinating city where east meets west. We had a unique family experience there of intense challenge and extreme blessing. The people, experiences and events we experienced in our seven years there will live in our memories forever and shaped us into the strong and resilient people we are today.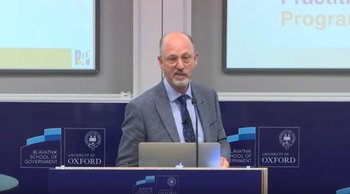 In 2010, you and your family moved back to the UK - tell us about life from then up until now.
Our children had most of their schooling in Hong Kong but we wanted their tertiary education to be in the UK. Jonathan studied Medical Science at Leeds and Chiropractic at USW and now works with the practice. He received several awards during his university years and recently won the Graham Heale Award given by the Royal College of Chiropractic for the outstanding PRT Candidate after one year of practice. We are very proud of Jon and he brings EPIC (evidence-based, person-centred, interprofessional and collaborative) energy to the practice! David studied Music Practice at UCLan and is a musician/singer/songwriter publishing online and performing regular gigs solo and with his band. We love David's music and the wonderful creative vibe he brings to our family! Abigail studied Forensic Science at ARU and Genomic Medicine at ICL and has begun work as an Associate Scientist at Cancer Research UK. We are all very proud of Abi and her tremendous work ethic and care for others. Not to be left out, Jacqui studied Anthropology at UWL and now works with refugees and asylum seekers in Preston while still managing the practice. She is full of energy, creativity and enthusiasm and, she will laugh at this, IS 'the glue that holds us all together'!
What are your best memories working in the clinic over the years?
Helping people - these are the memories that will stay with me forever. The chronic pain patients who had been everywhere else, who had multiple medications, treatments and procedures with little improvement. Getting to know these people. Sure, addressing their physical generators of pain, the disc, joints, nerve and muscles with hands on care, but more importantly helping them through biopsychosocial care, to understand their pain more fully and working with them to change their response by improving posture, ergonomics, exercise, nutrition, lifestyle. Sticking with them and encouraging them through the often difficult road to recovery. This is what has given me the greatest pleasure and satisfaction.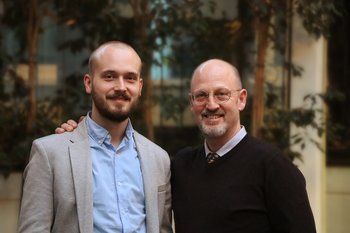 In December 2018, you qualified as the UK's first Primary Spine Care Provider after 15 months of training in Pittsburgh USA. Tell us about this, how has it shaped the clinic and what will it bring for the future?
Spine pain is recognized now as a leading cause of pain, suffering and disability worldwide. The mainstream care of spine pain has become expensive, inefficient and ineffective. The cost of caring for spine pain in this way cannot be sustained. The human pain, suffering and disability associated with spine pain need not continue. Over the last few years leaders in research, academia and professional practice have focused on a sea-change in the primary care of spine pain. They have advocated an evidence-based, value-based, patient-centered focus to early, active spine care resulting in less need for imaging, medical referral and surgery. This is mainly a cooperative effort between the chiropractic and physical therapy professions. The University of Pittsburgh is the first to accredit this training. I am proud to have graduated with the first cohort of Certified Primary Spine Practitioners, a wonderful group of 60 chiropractors and physical therapists training together. This approach will reduce both the cost of care and the resulting pain, suffering and disability associated with spine pain. We have enhanced our clinical approach to embrace this model. Of course we continue to offer expert manual therapy for our patients physical pain generators including the disc, the joints, the nerves and the soft tissues. We are now helping our patients to focus more fully on the biopsychosocial factors that so often complicate and persist spine pain. We do this through skilled motivational interviewing; evoking our patient's response and subsequent learning how to care for themselves. We stimulate them through education and advice. Together we work on posture, ergonomics and exercise. We explore lifestyle enhancement, good nutrition and stress management. We use principles in Cognitive Behavioural Therapy and Acceptance Commitment Therapy to help our patients help themselves. This equips and enables our patients to get well, become more resilient and stay well with less need for healthcare intervention.
I hear there is going to be a chiropractic course at the University of Central Lancashire. Tell us about that!
So excited! I have advocated this course on three occasions with UCLan over the last 30 years with no success. The last attempt in 2007 was close but the recession stopped progress. Now the time is right. Universities are recognizing the demand for more chiropractors and therefore the need for more undergraduate education. The last few years has seen the profession in the UK grow from three centers of education to six! They have searched and secured an excellent course leader. Ken Young is an experienced chiropractor, radiologist, researcher and academic. He embraces and is very familiar with the growing science advocating an evidence-based, patient-centered approach to spine care and the need for this direction in chiropractic education. I am confident UCLan's programme will add considerably to the quality of our growing chiropractic profession in the UK. UCLan and Dr Young have invited chiropractors to become stakeholders, offering perspective and advice towards the development of the course. I see a time in the not too distant future when chiropractors are well integrated into the healthcare community in Lancashire, working both privately and within the NHS, coordinating their care with GPs, physiotherapists, occupational therapists, internists, orthopaedists, neurologists and neurosurgeons.
What do you like to do outside of work for fun?
I enjoy traveling, spending time with my family, making and eating good vegan food, live music, playing covers on my guitar, cycling, rock climbing, caravanning and exploring with my wife Jacqui and our Border Terrier Charlie!
Thank you very much for your time Jeff. Do you have any last parting remarks for the readers?
Yes, we all have so much to offer, so much undeveloped potential. So, be kind, be diligent, be resourceful, be strong, be resilient, be yourself, be all you can be. Or, you may prefer the words of Ralph Waldo Emerson: "To be yourself in a world that is constantly trying to make you something else is the greatest accomplishment."
Thanks for reading! Please give us a call today if you've been experiencing back pain and want to know if we can help. Wishing you good health and happiness,
Jon